| | | | |
| --- | --- | --- | --- |
| A Sound Reference Base for Soils: The "Référentiel Pédologique" | | | |
by Baize D., Girard M.C. coord.
translated by Hodgson J.M., Eskenazi N.R., and Baize D.
ISBN 978-2-7380-0811-4 - 1998 – QUÆ Éditions, Paris
324 pp. - Réf. 01385
PDF 26.99 €/Epub 26.99 €/Paper-backed 38.70 7.74 €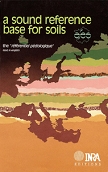 The book can be ordered on the QUÆ Éditions web site:
http://www.quae.com/fr/r646-sound-reference-base-for-soils-referentiel-pedologique.html.
A new way for soils designation and linkage to a reference system. Mandatory tool for correlating and transmitting rich information. From now on, replaces the French soils classification of 1967. A clear and renewed language, a practical and efficient tool.
Not only the "main soils of Europe" are considered, but also soils located at the south and east margins of this continent, and soils largely displayed in Middle East, in North Africa, etc.
Mandatory for scientists and engineers who have to deal with soils and for teachers in universities and high schools in agronomics.